On March 1, 1941, ex-Emperor Wilhelm suffered a stroke while working in the
sawmill. He has never fully recovered from this. On June 3 he realized only briefly
had to live. The family was convened as far as possible. The following day died
the ex-emperor of Germany, Frederik Wilhelm Albert Viktor von Hohenzollern at 82 years old
age. The poignant moment and the last words of Wilhelm passed through
Ilsemann described:
,,Jetzt muβ ich sterben, aber ich bin bereit. Oben gibt es ein Wiedersehen." Dann faltete er die Hände
und betete laut. Nachdem Dr. V. Ortenburg eine Injektion gegeben hatte war der letzte Satz des
Sterbenden: ,,Holen Sie meine Frau, jetzt heiβt es Abschied nehmen!" (…) Ich fand den Kaiser unruhig
atmend, wie in tiefem Schlaf. Die Herzogin [Viktoria Luise, JR] legte meine Hand in die seine: das war der Abschied, nachdem ich dem hohen Herrn gerade 25 Jahre persönlich hatte dienen dürfen.
In 2020 this room is still in almost unchanged condition. The dressing gown and
slippers, which the emperor wore to the last, are on the left against the wall.
                                    The Emperor's death chamber, with a note from Prince Adalbert on his bed.
---
It can be remarkably mentioned that the Nazi's Huis Doorn
left untouched for four years after Wilhelm's death. Art robbers – too
Hitler and Göring had that qualification – only managed to make their mark in this overcrowded depot in 1974.
The emperor had already determined in 1933 that his funeral ceremony be short, simple and
had to take place without military display. Hitler initially wanted Wilhelm in Berlin
would be buried: then the Fuehrer could be himself as the legal successor of the ex-emperor
manifest. This was canceled. Wilhelm did not want the monarchy in Germany until then
recovered, are not buried in his homeland, so he is still in the
mausoleum opposite Huis Doorn, which was only completed in 1942.
The burial ceremony
the court chapel in the park of Huis Doorn was the last major ceremony that was decisive
for the image of Wilhelm.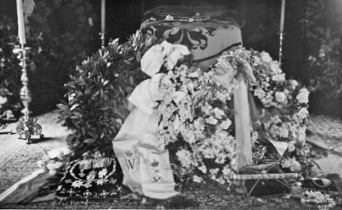 Hitler stayed in Germany, but sent Reichskommissar Seyss-Inquart as his representative. In addition, many other high Nazis were present. Two weeks later, they would start another bigger job: Operation
Barbarossa, the attack on Russia.
Some senior Nazi officials, on their way to the chapel where Wilhelm first
instance was interred. In the middle the 91-year-old former general August von Mackensen, at his
Seyss-Inquart's right hand. Source: Deutsches Bundesarchiv.
An anonymous report of Wilhelms funeral does not mention that at the ceremony alone
German officers (such as General der Flieger Heinrich Christiansen and Erich Reuter) are present
but also the regent of Hungary Miklós Horthy (1868-1957) and the mayor
van Doorn, baron J.H.E. van Nagell (1890-1972).
It was very busy in the small village: "Eine groβe Menschenmenge säumte dort die Straβen." The perception of the ex-emperor's interment would in itself be worthy of a separate investigation. Among others the
freedom of the press in the Netherlands around 1941 can be analyzed in the contextualization of that research. Was the Dutch press present at the ceremony? Were "ordinary" Dutch people allowed to enter the grounds on the day of the interment? In the Nieuwsblad van het Noorden and the Delftse Courant, only the photos were taken of the ceremony
published with caption. Apparently there was no need to say much about it; in the Nieuwsblad, a photo of a thrush nest-on-downspout got as much space as the photo of the chapel in which Wilhelm was buried.
Apparently the ex-emperor no longer interested the Dutch population so much; the difference with the attention that the newspaper gave to the emperor's 70th birthday is certainly remarkable. In addition to the presence of German photographers, there was a German preacher to lead the ceremony.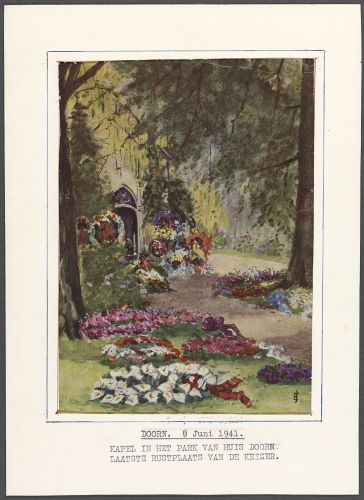 His task was limited because Wilhelm had indicated that he wanted a short ceremony. "Hofprediger Doering sagte nach einer ganz kurzen Einleitung, dass der Kaiser bestimmt habe, dass über ihn selbst nichts were sagt dürfe, dass allein Gottes Wort zu der Trauergemeinde sprechen solle (…)."
Imaging also has everything to do with photos and (at that time still limited) film.
A photo of Wilhelms Sarg, laid out in the dining room of Huis Doorn, was taken by W.N. van Oest & Zonen, a local photographer. It may have been hired by the – also Dutch – funeral company Innemee from The Hague. But besides Wilhelm himself, Adolf Hitler personally determined how the interment went. He sended
a huge wreath, which had to be carried by about six soldiers, with his name clearly visible on a ribbon. Furthermore, wreaths were laid on behalf of the army, navy and air force and a major role was played by a military music corps. All of that was against Wilhelm's will, but Hitler decided otherwise. The Polygoon journal was used on
the day of the interment devoted 4.5 minutes to the passing of the ex-emperor. It can be seen how Crown Prince Wilhelm, former General Von Mackensen and Reich Commissioner Seyss-Inquart stand side by side in this farewell.
What happened after 1941? Huis Doorn was opened to visitors as early as the war, partly because of a lack of money. Until his suicide in 1952, Sigurd von Ilsemann remained responsible for the ins and outs of this special building. Hermine returned to Germany after Wilhelm's death. She passed away in 1947. Crown Prince Wilhelm has
filed a lawsuit against the Dutch state after the war to obtain a so-called "Enemy Statement". That evoked angry reactions, for example in the communist magazine De Waarheid: did this German, whose compatriots had had a terrible life in Europe for five years, now still happily live in "his" castle in the Netherlands? The precise circumstances surrounding this issue and all the motives for the preservation of Huis Doorn have been extensively analyzed in the thesis by Ceciel Huitema from 2007 (already mentioned several times). It was not until the 1990s that the management and organization of Huis Doorn as a museum was professionalized. Anno 2019 is a beautiful place in Doorn
restored "castle", in which an eventful history is brought to life.
---
Source; Masters thesis History Specialization Dutch History / Political culture and national identities Leiden University Jaap-Jan de Rooij.